http://www.boingboing.net/2005/01/28/geneva_under_a_thick.html
Cory Doctorow
: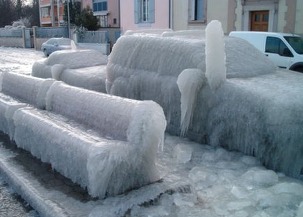 Geneva's been hit hard by a massive ice-storm that's left the city covered in thick ice. These photos of ice-crusted benches, boats, cars and so on are striking -- and chilling. I'm going there next week, so I'm praying for a thaw.
Link
(
Thanks, Singularity!
)
Correction Eric sez, "Please note that the photos of ice in Geneva on boingboing are due towater spray from the lake, not because of an "ice storm". If you lookat more of the photos you will see that everything covered with ice isright next to the lake shore. If you look closely at some of the photos there are houses in thebackground that are free of ice."